Virtual Library of Newspaper Articles
Houston Chronicle
Billboards remember slain dad
Houston Chronicle, Feb. 13, 2005
Some new billboards in Houston are intended to keep alive the memory of Dr. Rick Lohstroh, the surgeon who police say was shot and killed by his 10-year-old son last year.
Several of Lohstroh's friends have formed a group called Help Stop Parental Alienation Syndrome, named for the unofficial disorder that they say contributed to the 41-year-old father's death.
Lohstroh's family and friends believe his 2003 divorce was so contentious that his ex-wife turned their children against him, setting the stage for the Aug. 27 shooting.
Now they hope to raise awareness of the so-called syndrome that stems from one parent's efforts to alienate a child from another parent.
"This is becoming a really big problem and a lot of parents don't know anything about it and don't understand what is happening," said Judy Jones, of Friendswood, a founder and head of the new group.
Help Stop PAS is buying billboard space, including on Westheimer in west Houston and in Midtown.
The billboards feature drawings of a mother saying, " our daddy doesn't love you any Read More ..quot;
"Don't turn your kids against their mommy or their daddy," the caption urges.
The group is lobbying the American Psychiatric Association to recognize PAS as a formal medical diagnosis.
Jones said the issue was important to Lohstroh. Friends found material about PAS on his desk after his death, she said.
Copyright 2005, Houston Chronicle
---
A Mother's Heartbreaking Story of Parental Alienation Syndrome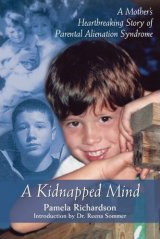 What does Parental Alienation Syndrome mean? In my case, it meant losing a child. When Dash was 4 1/2 years old his father and I broke up. I dealt with the death of our marriage and moved on but Peter stayed angry, eventually turning it toward his own house, teaching our son, day by day, bit by bit, to reject me. Parental Alienation Syndrome typically means one parent's pathological hatred, the other's passivity and a child used as a weapon of war. When Dash's wonderful raw materials were taken and shaken and melted down, he was recast as a foot soldier in a war against me. Read More ..