Female / Male Sex Offenders - Incest
EP Female Teacher/Husband Face More Abuse Accusations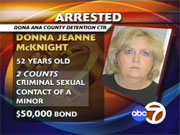 KFOX News, TX, USA, August 29, 2005 -- by: Elizabeth O'Hara
An El Paso teacher and her husband face new allegations of sexual abuse, this time allegedly involving their children
Las Cruces Police arrested 53 year old Donna McKnight and her husband, Ronald, Monday morning at the Century-21 Motel off North Main Street. Police were alerted to the couple by a family member and say the two were not trying to flee but were allegedly going to see an attorney. Both are being held on $50,000 dollar cash bonds.
As KFOX reported Saturday, McKnight is a second grade teacher at Vista Hills Elementary School.
Police say on August 7th, the couple was visiting the home of Ronald McKnight's mother in Chaparral. A 14 year old boy was cleaning the woman's yard when Donna McKnight allegedly asked the boy to rub suntan lotion on her and touch her inappropriately.
Investigators say the boy refused and told his mother. Police say Ronald McKnight called the boy's home three times the next day, allegedly bribing the boy and his mother to keep quiet about the incident so it wouldn't ruin his wife's teaching career.
Police tell KFOX that Sunday night, family members alleged McKnight and her husband are also having sex with their son and daughter whose ages have not been released. Police say the children couldn't pinpoint an exact time frame but allege the abuse has gone on for years.
Las Cruces investigators say their case will revolve around the allegations involving the Chaparral boy but they will turn the case over to the El Paso Police Department to look into the allegation of abuse involving the McKnight's children.
Copyright 2005 by KFOXTV.com. All rights reserved.
---
Lesbian Pedophilia and the rape of girls
Don't attend performances.