Anti-father stance by mother

Mother loses kids for anti-dad stance
The Australian, Australia's national daily newspaper, by Caroline Overington, March 31, 2009
TWO children who have been in the care of their mother since their parents separated in 2005 have been sent from Hobart to live with their father in Melbourne after the Family Court heard the mother encouraged them to have "negative" feelings about their dad.
The two children - a girl, aged nine, and a boy, aged seven - had been struggling with "change overs" between parents, saying things such as "I don't want to go" and "I don't have to go" when their father arrived in Tasmania from Melbourne to collect them for access visits.
The court found the mother did not discourage them from saying these things, and did not encourage a positive relationship between the children and their father.
The children told counsellors they were angry their father had left their mother, and lived with his new girlfriend in Melbourne.
Family Court judge Robert Benjamin said the children "clearly wanted" to stay with their mother, who had been their primary carer since birth, and acknowledged the "disruption to the children's family unit and their stability if they were to move to Melbourne to live with their father".
But Justice Benjamin said the "mother could see what was happening at change overs and did little about it".
"I have concerns that this will continue in the future," he said.
"Sadly, this is a case where the children may be at unacceptable risk of psychological harm if they remain with the mother."
Justice Benjamin said the girl, B, was becoming "emotionally estranged from her father" and was at risk of "psychological damage, if not psychiatric damage" if she was not allowed to have a relationship with her father.
The decision was made under new laws, introduced by the Howard government, that require the Family Court to adopt the presumption of "shared parenting" when dealing with children of divorce.
The Australian last week reported on new data that showed fathers had a much better chance of getting access to their children by going through the Family Court than they did by negotiating directly with their ex-wives.
A review of recent cases found fathers were given majority custody in 17 per cent of litigated cases, compared with just 8 per cent of cases settled directly with their ex-partners.
The Australian has also reported the case of NSW deputy fire chief Ken Thompson's wife, who fled Australia with their
son Andrew, saying the Family Court had become biased towards fathers.
In the case of the brother and sister sent from Hobart to Melbourne, Justice Benjamin ordered the children be removed from their mother's care, and to see her for school holidays and Mother's Day. She is also entitled to a phone call "each Sunday between 6.30pm and 7.30pm".
The court took evidence from a psychologist who helped facilitate a change over between the parents on June 27 last year.
When the time came for the children to get into the car with their father, the girl "started what can only be described as a mantra, or a chant".
"She kept repeating: 'I don't want to go' and 'I don't have to go'," the psychologist told the court. "When her father greeted her, she (said), 'I hate you'.
"The father showed me photographs of the last visit he had with the children, where they were cuddling, laughing and clearly having a very happy time."
The father put the children in the car, but B "was trying to climb out the window" while her brother was "distressed and was hitting and kicking".
B gave the psychologist a list that said: "I don't want to go with my father because he tells lies, he hurts me, he left our family and he has got a girlfriend and I don't like her."
"These children are slowly indoctrinated into believing that their father is cruel and unkind and likely to hurt them, when this is not the case," the psychologist said.
---
A Mother's Heartbreaking Story of Parental Alienation Syndrome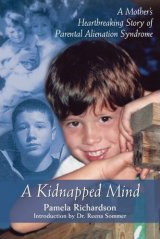 What does Parental Alienation Syndrome mean? In my case, it meant losing a child. When Dash was 4 1/2 years old his father and I broke up. I dealt with the death of our marriage and moved on but Peter stayed angry, eventually turning it toward his own house, teaching our son, day by day, bit by bit, to reject me. Parental Alienation Syndrome typically means one parent's pathological hatred, the other's passivity and a child used as a weapon of war. When Dash's wonderful raw materials were taken and shaken and melted down, he was recast as a foot soldier in a war against me. Read More ..